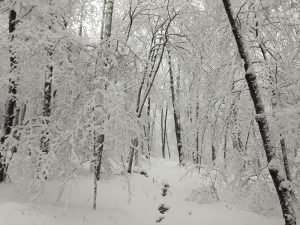 Everyone's talking trees. Peter Wohlleben (forester), Suzanne Simard (biologist), Richard Powers (author), Richard Attenborough (naturalist), Melvin Sheldrake (scientist). These people from varied professions are saying the same thing:  trees are intelligent and there exist vast interconnected networks of life both above and underground . Ever heard of the Wood Wide Web? Old growth or Mother Trees provide knowledge and nutrition to the younger saplings in the forest via underground mycorrhizal fungal networks that transfer water, carbon, nitrogen and other minerals. Just because we can't see it, doesn't mean it isn't happening. It is. Everything is sentient and alive, merely in its own non-human way.
To help combat Climate Chaos, nations around the world are planting large quantities of trees: Canada, Ethiopia, India, Ireland, Norway, Russia, Uganda all have accomplished major tree plantings or have a tree planting plan in the works.
Old growth forests, Mother Trees and regenerating woodland tracts are the most important as they have the age and the wisdom to pass along to younger trees. If you are a land owner considering a timber harvest, visit Healing Harvest Forest Foundation first to find out ways that our human need for forest products can co-exist with the forest's life needs now and for the future.
If you are inspired to plant more trees but are running out of space, visit Tree Sisters and make a donation. Your money will advance their mission of planting trees to protect and expand intact forest landscapes, restore and protect watersheds and restore topsoil and land fertility.
To date, Tree Sisters has planted 4 million trees across the globe.
At the very, very least, hug a tree or thank a tree for her amazing and wonderful life.