In 2007 I received a Master's of Science in Landscape Design from Columbia University.
In 2008, I started my first landscape design project in the Catskill Mountains, in Allaben, New York. This design project evolved into me installing the garden — terraces of lavender, raspberries and summer sweet, sweeps of dayllies and allium and a grove of peach trees — with the help of my best friend. Since then I have designed, and — with the help of a small dedicated team — installed and managed large and small gardens and landscapes in the Catskill Mountains.
Over the years my design priorities have shifted to embrace an ecological approach to garden design, taking into account native plants, pollinators, insects, birds and small mammals.  Plants, animals and humans work together to create stability, balance and resilience in an ecological garden, often minimizing the need for costly inputs of materials and labor. Very importantly, gardens with ecology as inspiration and native plants as the foundation are beautiful and biodiverse.
In 2020 I am adding Garden Coaching to my services and continuing with offering scaled landscape design and project management but have stepped back from active installation and maintenance. Please visit Services for more information on these offerings.
Additionally, I will be reprising the 5-class course Designing Your Landscape at the Phoenicia Library starting in March 2020. Check back for dates.
Currently, some of my Garden Heroes are: Edwina von Gal, Jinny Blom, Larry Weaner, Piet Oudolf, Doug Tallamy, Diane and Francis from Catskill Native Nursery and Mel Bellar of Zone 4 Landscapes in Andes and Marguerite Uhlmann-Bower, RN and Herbalist
Please meet the KUL Team: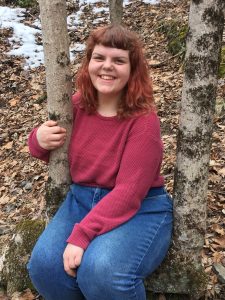 Hi! My name is Karina Buckholz. I am a Landscape Gardener here at Karin Ursula Landscapes. I am known for my love of plants, but I am also infatuated with fungi, crafts, and recently- foraging. My favorite plant is currently Cephalanthus occidentalis, or the common buttonbush. I am a Catskills native, and have always loved being in the mountains. This is my fourth year at Karin Ursula Landscapes. I studied Horticulture at SUNY Delhi, and I am also training to be a Landscape Designer.