Ten years ago when I met Mel Bellar, we became fast friends over our love of gardens and gardening. With several more years experience and a fearless try anything attitude, Mel also became my Garden Hero. On my first pruning job — an overgrown smokebush (Cotina coggygria) in Windham, I called him for advice and an impromptu pep talk. I was terrified of cutting too much off or killing the poor shrub — grown over the years into a lopsided tree. Mel assured me I couldn't kill it, that smokebushes take kindly to hard pruning. In the end, I opted for a little less than a hard prune and hoped for the best. (It is still standing in the Windham garden today.)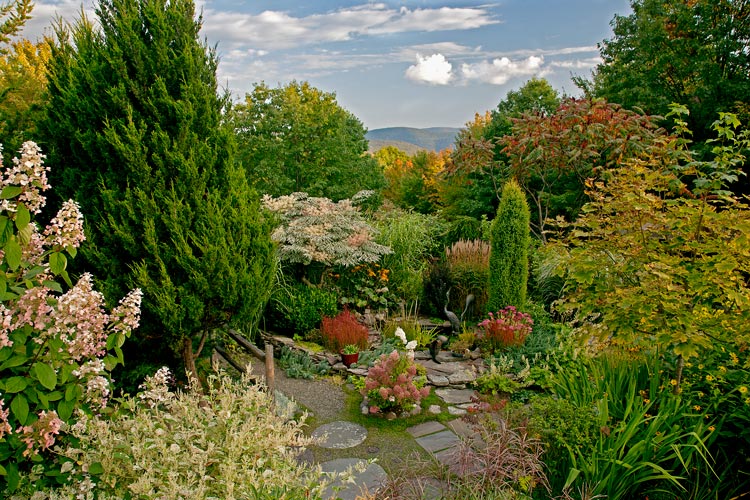 Mel's personal garden in Andes was always a source of inspiration, wonder and awe — the plant layers, curving paths leading to hidden seating areas, nuances of varying hardscapes, sweet little personal details and tall Alice in Wonderland plants that enveloped me. His garden was a total immersion in an experience of textures, flowers, scents, secret places. Similar to when, as a child, I lost myself in woodlands or meadows and my feet were on this earth but my sense of experience was blissfully in nature and not in the mundane adult world of jobs, bills, politics and now —  environmental and humanitarian horror.
In recent years, I started contributing articles to Horticulture magazine and when the editor put out an open call for submissions — I pitched a profile of Mel's garden in Andes. My pitch was accepted! Surprising Mel with the news and hearing his disbelief and happiness was one of the best feelings. Even better was to open my mailbox and see the article and Mark Loete's photographs (markloetephotography.com ) in print for the whole gardening nation to see. Being able to give Mel national recognition for his horticultural  passion and expertise has been one of the great pleasures of my own career as a garden designer and writer.
Read the article in the July/August issue! horticulture_july2018
#lovewhatyoudig